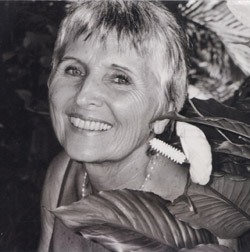 Keala Gerhard has a powerful gift for healing as well as a love and special talent for Distant Healing – using Reconnective Healing, ancient, but newly found frequencies, that can heal us on all levels, physical, emotional and spiritual. She calls it the Power of Three working together: the client, the healer and God- the Divine or Higher Intelligence- to bring long lasting or even everlasting healings.
Her clients love that it brings them into deep harmony and inner peace, often never felt before and real healing takes place. Even so every experience is unique, many report healings from afflictions like Depression, Arthritis, Fibromyalgia, Cancer and more. Others find their life purpose and many attract their soul mate.
Keala's journey on the path of Healing started when she was a little girl, growing up in her grandfather's pharmacy and decided to become one and learned about western medicine as a pharmacist for 18 years.
Leaving the pharmacy she was determined to explore many of the holistic and alternative therapies.
Her credentials include becoming a Hypnotherapist, a certified Pastlife therapist and a certified Rebirther. She led workshops in Germany, Austria and Switzerland and established her own practice in Munich.
She felt there was more to learn and experience and1994 she moved to Maui to study the ancient teachings of Hawaii. She is a teacher of Huna and Ho'oponopono the Hawaiian Healing Arts, since 1997. You can learn more about this on Keala's Hawaiian Healing web site: KealaMaui.com
Eventually, in 2007, she met Dr. Eric Pearl and Reconnective Healing and is a practitioner since then.
She has a special love and passion for Distant Healing with people and their pets and many report miracles.
Keala Gerhard qualified for inclusion in the 2008/2009 edition of the Cambridge Who's Who Registry of Executives, Professionals and Entrepreneurs and is an honored member since then.
2010 she was chosen to be in the Hall of Fame as one of the most accomplished female members in the United States. Every year 200 members are chosen -from over 40.000 members-, to be in the Hall of Fame.